Home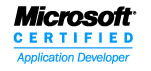 This site is the home for John Smith, a senior Microsoft certified C# software developer based in Oxfordshire with over 12 years experience working as a developer.
The name Solution Revolution comes from some graffiti I saw on a wall on the way home from work in Oxford one day back in 1999. Sadly it's no longer there but it became my company name in 2006 whilst working as a consultant and mISV
Blog
When I have spare time I also like to blog about all things related to .NET and software development including tools, skills and design patterns.
CV
I also have an online version of my CV including a Microsoft Word version
Contact